How Partisan Poll Watching is Transformed into an Indirect Vote-Buying
By Weng Bava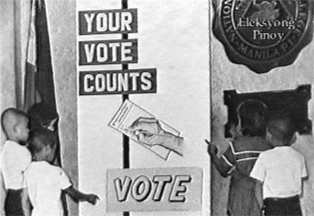 Knowing that we Filipinos are known for our values of utang na loob, pakikisama and pamiliaridad, candidates are capitalizing on these aspects of our character to lure the much coveted votes of the masses into a self-serving end – to win in the coming elections.
The face of the elections in our country has never really changed, it just assumes newer masks to hide the more hideous ones it once wore. With only a few days left before the polls, candidates are all agog with their preparations to get the most number of votes from the people no matter how it cost and what it cost. One of these preparations being done by different parties and individual candidates is to get poll watchers and sample ballot distributors for their party. At the present, each sample ballot distributor is paid by their candidates P500 pesos per day of work from 7 am until 3 pm. Poll watchers are paid P1200 to P1500 per day. If the tabulation ends on the second day after the election, each partisan poll watcher is paid double the agreed upon payment. However, there are some candidates in the past who did not fulfill their promise because they foresaw that they had no way of winning in the elections. Despite this "risk" partisan poll watching business is really a business.
A poll watcher needs only four things to be able to be an official partisan poll watcher: 1) a ball pen 2) a piece of paper to record the tallies 3) at least eighteen years of age and the most important of all 4) a registered voter. It is quite logical to require a prospective partisan poll watcher to be 18 years old and above because this would mean that this poll watcher can at least read and write figures and names of their candidates. But the last requirement is the better catch – if he or she is a registered voter, then his or her vote can almost be counted in favor of his employer candidate.
There is no easy job in our country today that can earn a regular blue-collar worker a decent P500 for the duration of the day just giving candidates' pamphlets and sample ballots and P1500 is still an enviable amount for a fish vendor or construction worker who earns P135 a day. What more, the candidates are given a round the clock supply of meals and meriendas by their "sudden benefactors" just to make sure that they don't swoon because of hunger and lose track of the counting. After their candidates' victory, an outing or partying is given them with still more promises of landing them jobs in government offices.
Given all of these priveleges, there is no way for a family man of five not to take the opportunity. This is where the "legitimate" and indirect form of vote-buying comes in. Once a candidate has sworn in a registered voter as a partisan poll watcher, he or she can expect that the latter will vote for him or her. Our Filipino trait of utang na loob is evident on this case. Once a person has granted us something, a favor, we would do everything to pay that favor back to him or her, sometimes even at the expense of ourselves. We tend to view persons who did us some good things as benefactors, and we view ourselves as beneficiaries who can please them by doing the same for them.
Each one of these partisan poll watchers have neighbors, friends, classmates and relatives of their own. What's wrong by asking some of them to vote for our candidates? Or to tell them "good things" about our bets even though we really don't know if what we're saying are true or not? Who cares? "Pare makisama ka naman, isingit mo naman ang kandidato ko.." And the answer: "Yes sure, yun lang pala,eh!"
And lastly, we only vote for persons we know or hear from other people. "Familiarity breeds liking," as one psychologist puts it. If you know someone, even if he's bad, the rule is, you will vote for him more than the other person you are not familiar with even if he's good. Now it's the partisan poll watchers and the sample ballot distributors' duty to familiariaze us with their candidates, after all they are being paid to do that.
If a partisan poll watcher or pamphlet distributor can assure his candidate at least ten votes from his relatives and friends, imagine how can a thousand of them can make an effect on the 11 May polls.