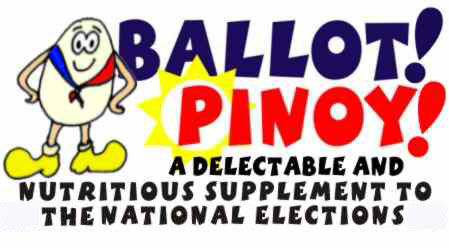 The Official Site of Parish Pastoral Council for Responsible Voting (PPCRV)
During the May 1998 National Elections

ChapelNet's Spirit Force was the predecessor of NAMFREL Marines during the Martial Law years. This force was mobilized during May 1998 National Elections to guard the counting of ballots against the sophisticated dagdag-bawas system of election cheating. Click here to check out the Spirit Force's activities.
---
CHAPELNET VOTERS ASSISTANCE
| | |
| --- | --- |
| FEATURES OF THE DAY | IMPORTANT INFORMATION BEFORE ELECTIONS |
CHAPEL NET-NAMFREL-PPCRV ALLIANCE
COMELEC-Commission on Elections


COMELEC HOTLINE:
527-5202*527-5211*527-5227*527-5290*527-5913*527-1894*527-0722*527-6111
LOCAL 2102 and 2103

CHAPEL NET
Christian Action for Peaceful and Meaningful Elections
Affiliates in Luzon:
Loyola School of Theology
Simbahang Lingkod ng Bayan
Jesuit Communications Foundation, Inc. (Sonolux)
Ateneo de Manila University, Quezon City
Tel. No. (2) 426-5966 or Fax (2) 426-5967
E-mail Simbahang Lingkod ng Bayan
Affiliates in Mindanao:
Social Involvement Coordinating Office &
Ateneo de Davao University
Davao Association of Colleges and Schools (DACS)
Ateneo de Davao University
Jacinto St., Davao City
Tel. No. (82) 221-2411



© Copyright Chapel Net All Rights Reserved 1998
Chapel Net Visitors' Counter since March 12, 1998


FastCounter by bCentral