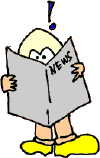 What is a Wasted Vote?
Rina Jimenez David
Source: PDI vol 13, no. 96, 3-14-98, pp. 9
TO FOLLOW up on Conrado de Quiros' column about voting for the sure winner, I, too have heard many people say that while they personally like and believe in Raul Roco (or Rene de Villa, Miriam Defensor-Santiago, Lito Osmena, even Fred Lim), they still aren't sure about voting for Roco or any of the other candidates because "my vote might be wasted." But what really is a "wasted" vote? Would one more vote for Erap or an addition to the Lakas candidate really make a difference? What is one more hanger-on hopping onto the bandwagon? Do they really believe Erap or Joe de V is counting individual heads, planning to individually reward each and every one of their followers?
Take a leaf from FVR himself. A "minority" president with less than 24 percent of the vote in 1992, President Ramos early in his administration was wont to say that if all those who claimed they voted for him really did, then "it means I got 90 percent of the vote." The winner has no way of telling for sure who voted for him or not! And truth to tell, he or she really won't care.
SO if you sincerely believe in a presidential candidate but doubt his chances of winning, you would really "waste" your vote if you give it to a more powerful rival instead. If Erap or Joe de V already have such excellent chances of winning, they don't need your vote. But the weaker candidates, especially the one you believe in, you think has the right qualifications for the job, offers you the platform that most resonates with your personal concerns that candidate really and truly and urgently needs your vote. Your vote can make a difference, and it would not be wasted. Who knows, it might even give him or her the winning edge. And if the candidate of your choice loses, there is always the consolation that you voted out of principle and not opportunity. It's cold comfort, true, but it's knowledge about yourself that no one can take from you, buy from you or hold against you.
Take it from me. My brothers and sisters jumped on my case when, shortly after it was known that Ramos had won the elections, I mentioned in my column that I voted for Salonga. "What's with you?!" they asked. "You keep silent about your candidate during the campaign, and when it's obvious that he lost, you say you voted for him pa!" That revelation may have cost me access to the inner sanctums and rewards from the Ramos administration, but I notice that among my contemporaries these days, more and more of them are claiming they voted for Salonga.